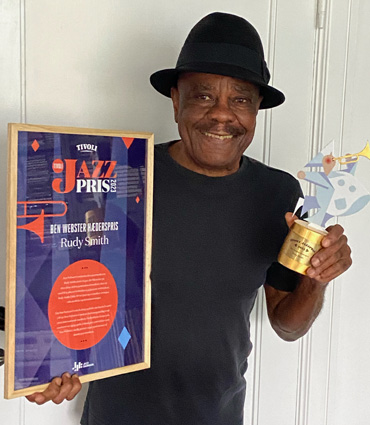 Recipient of 2023 Ben Webster Award
Copenhagen 2023
-
In
a career spanning six decades, alto steel pan player Rudy Smith has built a reputation exploring and bridging the world of jazz with his native instrument, the steel pan, finding in each a sincere spirit of musical expression. In the process, he has performed and recorded with many jazz musicians and artists from almost every corner of the musical universe:
From USA: George Cables, Tommy Flanagan, Horace Parlan, Frankie Mcintosh, Frank Morgan, Leo Wright, Jerry Tilitz, Herb Geller, Richard Boone, David "Happy" Williams, Red Mitchell, Peter Washington, Ed Thigpen, Andrew Cyrille, David Friesen, Don Munford, Clif Jarvis Jr, Willard Harper, Paul Weeden, Tom van der Geld, Paul Horn, Billy Brooks, Billy Higgins, Charles Davis, Oliver Griffith.
From Canada: Kieran Overs, Norman Marshall Villeneuve, Don Thompson, Mike Downs, Bernie Senesky, Nancy Walker, Maxwell Roach, Anthony Michelli, Ethan Ardelli.
From Sweden: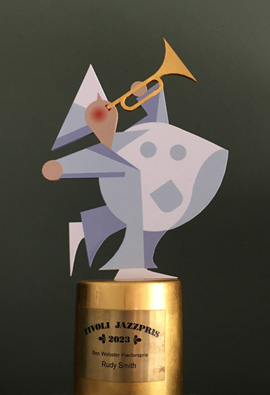 The Ben Webster Award 2023
Lars Sjosten, Carl Orrje, Sture Nordin, Jan Adefelt, Lennart Aberg, Egil Johansen, Bosse Soderberg, Costa Apetrea, Gilbert Matthews, Teddy Walter, Palle Danielsson, Tommy Koverhult, Rune Carlsson, Bernt Rosengren, Maffy Falay, Torgny Nilsson, Ulf Adĺker, Ed Epstein, Lola Regenthal (vocalist), Hans Backenroth (bass).
From Denmark: Finn Ziegler, Ole Matthiessen, Ole Streenberg, Mats Winding, Niels Prastholm, Henrik Dhyrbye, Bent Jaedig, Thomas Clausen, Guffy Pallesen, Bjarne Roupe, Klavs Hovman, Holger Laumann, Jens Kluver, Torben Kjćr, Ben Besiakov.
From Finland: Ari-Pekka Anttila (bass), Jussi Reunamáki(keyboard), Topi Kurki (drums), Jukka Syrenius (guitar)
From Holland: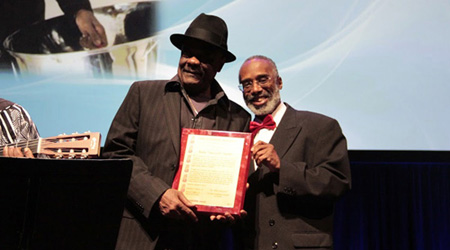 Recipient of the 27th annual Sunshine Award Hall of Fame
New York 2015
Thijmen Hoolwerf, Ellen Helmus, Cees Slinger, Johnny Engels,Max Teawhistle, Peter Guidi, Lex Jesper, Jacques Schols, Rob van Bavel, Amoud Gerritsen, Frans Jan v/d Oever (bass), Echter van Gruithuis (drums)

From Belgium: Roger Vanhaverbeke, Charles Loos, Johan Clement, Bruno Castellucci, Freddy Rottier.
From Germany: Connie Bauer (trombone), Bernd Konrad (soprano, baritone)
From India: Vikash Maharaj (sarod), Pandit Prakash Maharaj (tabla)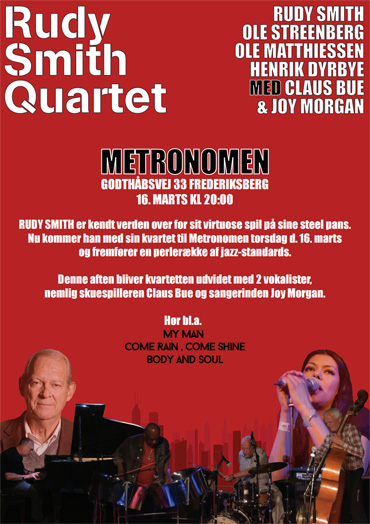 From England: Richard Bailey (drums), Neville Malcolm (bass), Geoff Castle (piano), Kenrick Rowe (drums)
From South Africa: Johnny Dyani (bass), Dudu Pukwana (sax), Johnny Meko (trumpet), Marcus White (trumpet), Barney Rachabane (altosax), Mankunko Winston Ngozi (tenor sax), Lulu Gontsana (drums), Wenda Joyce (vocal)
From Switzerland: Jonas Tauber (cello, bass), Francis Coletta (guitar), Danilo Djurovic, Dieter Ulrich, Chris Wiesendanger.
From Austria: Rudi Görnet (kontrabass), Johannes Thoma(Piano), Courtney Jones (drums)
From Brazil: Dom Um Romao (percussion)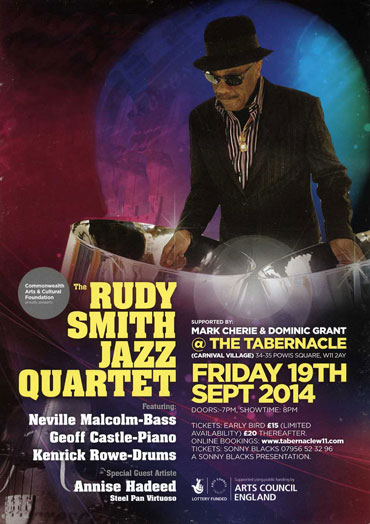 From Uruguay: Luis Di Matteo (bandoneon)
From Japan: Natsuko Inada (piano)
From Turkey: Maffy Falay (trumpet)
From Italy Amedeo Nicoletti (guitar)
From France Guy Roelinger (bass)
From Ghana Kofi Ayivor (conga drums)
From Cuba Bebo Valdes (piano), Chappottin (bass)
From Venezuela Marcos Monserrat (conga)
From Paraguay Sergio Cuevas(harp)
From Puerto Rico Sabu Martinez (conga drums)
From Suriname Pancho Chin A Loi
I have never heard a steel-drum player like him before in my life! I am very impressed with his compositions.
Ernie Wilkins
(read other reviews)
From Barbados Adrian Clarke, Ebe Gilkes, Elvis Evans, Antonio "Boo" Rudder, Clarence Green.
From Trinidad Tobago Robert Munro(quatro), Ralph Davies, Felix Roach, Clive Zander, Raf Robertson, Carlton Zander, Orville Wright, Gerald Charles, Sean Thomas, Michael "Toby" Tobas, Errol Wise,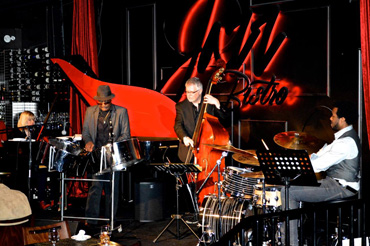 Kieran Overs, Nancy Walker, Maxwell Roach
Jazz Bistro, Toronto, Canada, may 1-3 2014 Mervyn de Gannes, Ron Reid, Dougie Redon, Russel Durity, Annise "Halfers" Hadeed.
Big Bands:
BRT Big Band. (Belgium)
Vara Radio Big Band (Holland)
Jens Kluvers Big Band (Denmark)
Donaueschinger Big Band (Germany)
Recordings with Johnny Dyanni Sextet, Lars Sjosten Trio, Amadu Jarr, Gunnar Silja-Bloo Nilson,Cyndee Peters, Erik Bibb, Johnnie Nash and Bob Marley.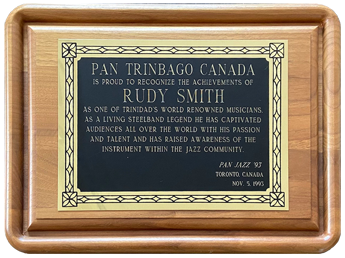 Pan Trinbago Canada Recognition
Pan Jazz, 1993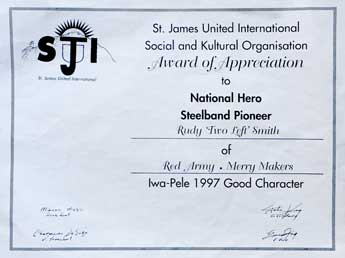 St. James United International Social and Kultural
Organisation Award of Appreciation, 1997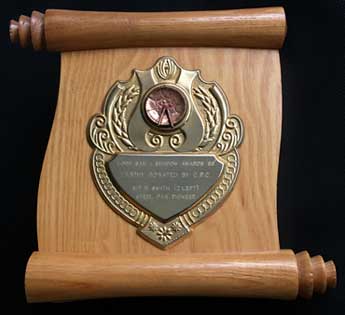 Lord Sam + Shadow Awards, 1988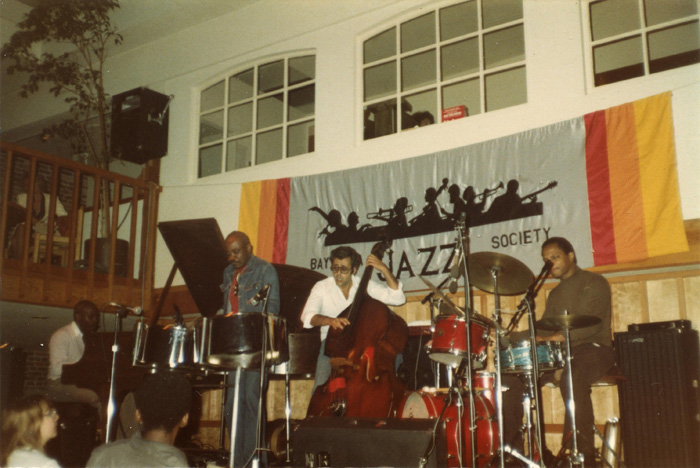 Rudy Smith with George Cables(piano)
and Larry Hancock(drums)
Jazz Society, San Francisco, 1983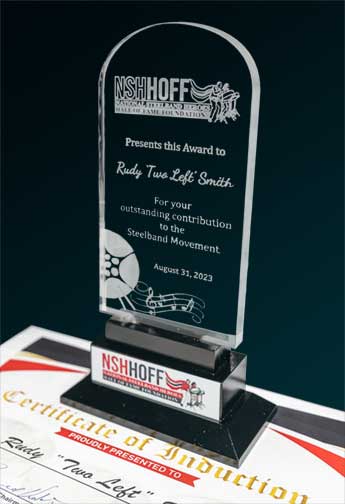 National Steelband Heroes
Hall of Fame Foundation, 2023
Born on 15th of june 1943 in Port of Spain, Trinidad, Rudy Smith played his first pan at the of age six, although he is largely self-taught.
As a teenager he witnesssed and heard some of the greatest pan players: Dudley Smith, Evris Barquain, Theo Stephens, Neville Jules, Spree Simon, Ernest Ferreira, Emanuel Jack Riley, Belgrave Bonaparte, Eamon Thorpe, Gerald Forsythe, Alfred "Sack" Mayers, Alrick "Chick" Springer, Julien "J.D" Darius, Lennard Morris, Alfred Cooper, Lennox "Ranger" Glean, Steve Dupres, Bernard "Puddy" Flores, Ozie "Toylan" George, Sam Boodoo, Percy Thomas, Anthony Williams and many many more in his hall of steel pan heroes.
These artists had a profound effect on Smith's aspirations.
Rudy Smith perfected his unique style of music by studying jazz luminaries such as Milt Jackson, Bobby Hutcherson, Oscar Peterson and John Coltrane.Through his long career Rudy Smith has toured internationally and has performed at some of the major clubs and jazz festivals in the USA, Canada, Europe and the Caribbean.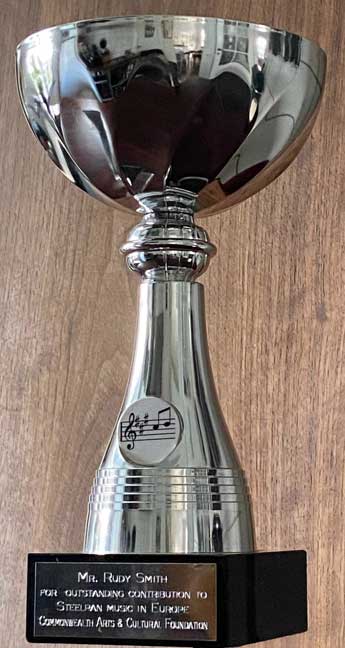 For outstanding contribution
to steelpan music in Europe
Commonwealth Arts & Cultural
Foundation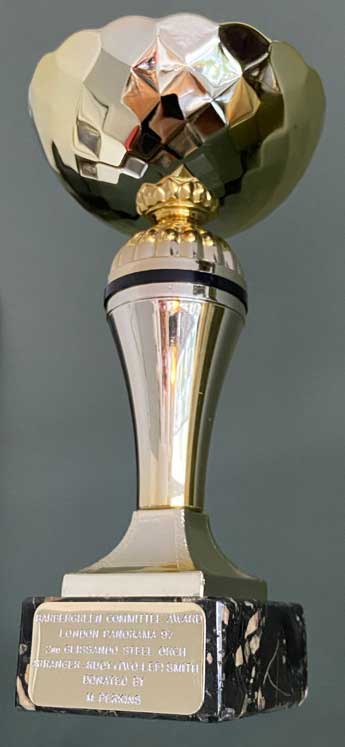 Barbergreen Committee Award
London Panorama 1997